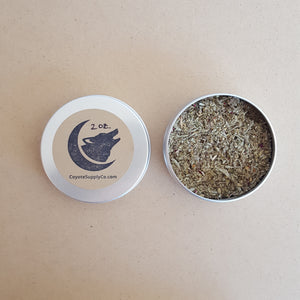 This isn't my room smells funky incense, this is WTF is going on in my life please help incense.  Think of it as an energetic bug bomb, and burn sparingly.  Crafted to give bad vibes the boot, stop gossip, and create boundaries; while inviting in tranquility, love, and abundance.  Ingredients include organic fair-trade herbs & spices, sage brush responsibly harvested from our backyard, and juniper berries that Brianna harvested on the 2019 Autumn Equinox from the grounds of a local Victorian mansion.  The original mansion owner was a psychic medium and suffragette, and Boss Witch Brianna hand blends the ingredients with a grinding tool, so this blend is packed with big witch energy.  Plus, it smells like the desert after a summer rain.
How to burn:  Place cauldron/cast iron skillet on level surface away from fire hazards, fill bottom of vessel with salt, add lit charcoal tablet, sprinkle incense on top.
Alternative uses:  If you are sensitive to smoke or looking for other uses, you could also sprinkle the incense:  in your fireplace, on your carpet before vacuuming, across your home's threshold, in your bathwater, in a jar to boost a freezer spell, or in the pool of wax on a burning candle.  Can also be brewed like a tea, strained out, and the resulting liquid can be loaded into a spray bottle or used to dunk items for cleansing.

RIP  At end of life aluminum tin can be reused or recycled.