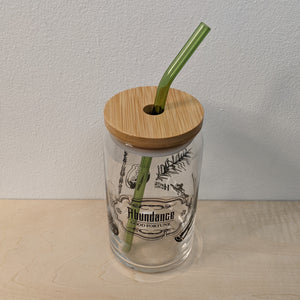 When House of Hex created the drawing for this Glass, she tried to include things that would go into a real Abundance Jar like; Cinnamon, Bay leaves, Coins, Cloves, Citrine, Aventurine & Rosemary.  So this glass can be carried around as a good luck charm and manifestation helper!  We've had a couple local Reno coffee shops agree to fill ours up with our iced lattes to save waste too.

Glasses fit 16 ounces, are top rack dishwasher and microwave safe, and feature straight sides, inset lip and ridged heel. The glass is about 5.25" x 3" big and the lid adds around 0.25 inches. The bent glass straws are about 8 inches long.
RIP if broken, see if your local waste management company takes broken glass, otherwise a local artist might be your best bet.  Inner silicon ring is landfill bound, bamboo lid can be composted.