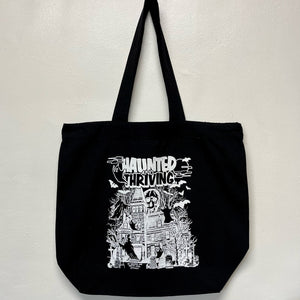 Are you surrounded by spirits but still living your best life? Let the world know you won't let a little paranormal activity bring you down with this wonderful tote.  26" handle drop, 20" wide x  17.5" tall with 7" bottom gusset.  100% cotton, AZO-Free with no hazardous chemicals.  By Arcane Bullshit.

CARE  Cold water & line drying is best for your bag and the planet, & it'll keep the graphic looking crispy.
RIP At end of life cotton tote is compostable or recyclable where fabric recycling exists.