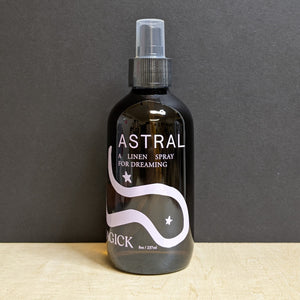 The scent of Astral linen spray will whisk you off to dreamland; encouraging both deep sleep and psychic visioning.  Supported by mugwort and celestite essences.  Smells like cedarwood, fennel, and lavender.  Feels like sweet dreams, soft linens, an uninterrupted REM cycle…  Also a pet safe & essential oil free alternative to incense & room sprays.  8 ounce glass bottle.
Ingredients: Water, vodka, safe synthetic fragrance, essences of mugwort and celestite.
Suggested Ritual: Hold bottle to infuse with intention. Spray all 4 corners of your bed.  Recharge the bottle in full moon light (unless you're like our Boss Witch Brianna & the full moon gives you insomnia, then maybe charge in new moon lack of light).  For an extra boost: tumble your sheets dry with one of these lavender sachets.

RIP glass can be recycled, plastic spray top &n cap can be recycled in store via Terracycle (allegedly).