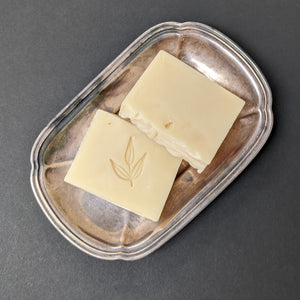 Not into essential oils?  Avoiding palm oil?  Got sensitive skin?  This unscented castile bar soap from MamaSuds is the best bet for you.  Our very own Boss Witch, Brianna, is "allergic to fun" and this is one of the only soaps they can use without getting an eczema flare up.  Grey water & septic safe.  Store in a well draining soap dish for longest shelf life.  Listing is for one 5 ounce bar.

Ingredients:  saponified olive oil, mango seed butter, organic babassu seed oil, organic rice germ oil, organic castor seed oil.
RIP at end of product life, product will naturally biodegrade.