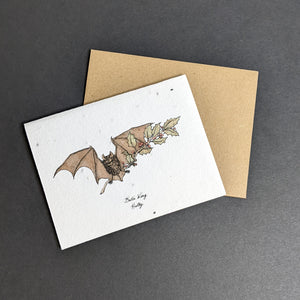 This charming seed paper card, illustrated by Vincent Frano of Small Victories, warmed Brianna's cold cynical heart enough to send out holiday cards for the first time ever.  2 gifts in one, your lucky recipient can plant this card for a culinary herb garden.  Folded card is 4.25" x 5.5" & blank inside.  Printed on plantable post-consumer paper and embedded with chive, parsley, & basil seeds.  Comes with a 100% recycled kraft envelope.
To Plant:  Cover with 1/8" of soil in full to partial sun and keep moist until the seeds establish.  Seeds have a shelf life of 2 years.
RIP At end of life, card can be planted or composted & envelope can be composted or recycled.  Colored paper not recommended for vermicomposting/worm bins.