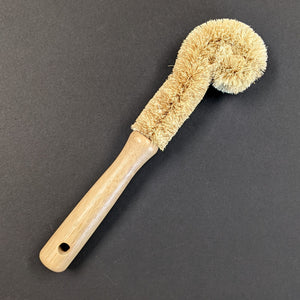 This beechwood bottle cleaning brush is an environmentally friendly, plastic-free zero-waste staple for your daily cleaning routine.  Heavy duty coconut fiber bristles attached to a long, thin handle are perfect for cleaning water bottles, vases, mugs, and other vessels with small openings.  Brush measures 8.75" & can be unbent & adjusted to fit baby bottles.
Care & Use:  Rinse after use, allow to dry out in between uses.  Brush will benefit from an occasional dip in white vinegar to sanitize.
RIP at end of life brush head is & wood part of handle are fully compostable (beechwood will take awhile to break down), metal can be recycled with scrap metal.