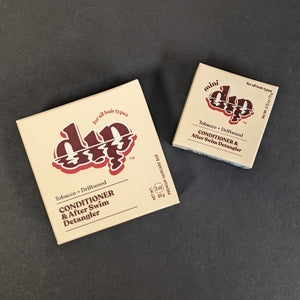 Tobacco & Driftwood scented, co-starring Sea Salt, Amber, & Vanilla.  This is our earthiest scent we carry, we think it smells like "be your own daddy" vibes.  Select your size (1 ounce mini or 4 ounce full size) from the drop down menu.  Scroll down to the bottom for a full ingredient list.

We finally found a plastic-free haircare brand that really works without being ridiculously expensive per use: Dip.  Why Dip?  First of all, because the the owner Kate is hilarious.  Secondly because DIP won the 2022 Beauty Design Awards for Best Brand of the Year "Doing Good for the Planet" & Best Brand of the Year "Best Haircare" Here's why Dip is out here snatching trophies:
WORKS ON ALL HAIR TYPES:  Whether you're type 1A or 4C, this bar is for you! Especially formulated and tested for all hair textures. Got a splotchy hair history? No worries: this is great for colored and compromised hair types.  We have a diverse coven & we didn't stop testing low waste haircare until we found a brand that we were confident would work for all of us without giving us all sticker shock at the price tag.
MULTI-USE:  For our curly haired witches, the Dip conditioner bar can also replace leave-in conditioners and hair masks, reducing your plastic footprint even further.  Swim?  Surf?  Float the river?  Got toddlers?  These DIP bars have been tested on surfers for maximum detangling & they really work.  Did we mention they also have heat protectants in the ingredients?
LONG LASTING:  One bar can replace 6+ bottles of pricey salon conditioner, and for some it can last a full YEAR depending on how often you wash your hair (this tracks with how long our test bar lasted).
THE FORMULA: Dip's vegan conditioner bars are full of scalp nourishing ingredients that are known to help regrowth & shedding.  They also added some ingredients that really upped the scalp-game & encourage re-growth. Say hello to DIP's nourishing mix of prickly pear, plum oil, karanja seed oil, alma oil, and more!  Brianna (who used to be a hair model for the Sassoon Academy in Santa Monica) is super picky about haircare & allergic to everything, so trust us when we say that the entire DIP line is salon quality.  All fragrances are formulated to Credo's Clean Standards. (scroll to bottom for ingredient list & links to more info)
TRULY PLANET FRIENDLY: The formula is vegan, the bars are long lasting, the packaging is backyard compostable (run through a paper shredder to speed up the process), the formulas are a blend of natural essential oils for their haircare benefits & synthetic fragrances for their lower impact on the environment, & these have a lower carbon footprint for shipping because they are concentrated bars.
SO HOW DO I USE THIS THING
Swipe very wet conditioner bar down very wet hair and re-wet bar between swipes.  Rinse first & then leave some in for some extra frizz fighting--and when in doubt: over apply!

To preserve the life of your bar: please store in a well draining soap dish & allow to dry out between uses.
Ingredients:  Cetearyl Alcohol, Behentrimonium Chloride, Brassicamidopropyl Dimethylamine, Cocos Nucifera (Coconut) Oil, Prunus Amygdalus Dulcis (Sweet Almond) Oil, Caprylic/Capric Triglyceride, Glycerin, Theobroma Cacao (Cocoa) Seed Butter, Butyrospermum Parkii (Shea) Butter, Adansonia Digitata (Baobab) Seed Oil, Tocopherol, Panthenol, Opuntia Ficus-Indica (Prickly Pear) Seed Oil, Emblica Officinalis Fruit Extract (Amla Seed Oil), Prunus Domestica (Plum) Seed Oil, Pongamia Glabra (Karanja) Seed Oil, Fragrance (Parfum).
Lots of sciency facts behind those harmless yet scary words here.  Info about why fragrance not essential oils here.
RIP at end of product life compost the box & inner wrapper, product will naturally biodegrade.