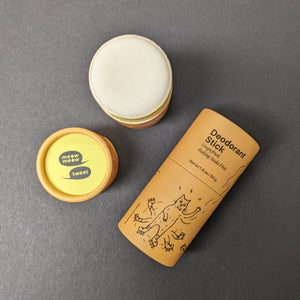 Say goodbye to stinky pits and hello to the refreshingly sweet scent of grapefruit complemented by notes of orange, lemon, and bergamot.
At long last a vegan, low waste deodorant has arrived! Free from baking soda and all natural, this deodorant by Sacramento based Meow Meow Tweet is sure to delight! Not only does it work on armpits but it's also great for your neck, chest, and even feet! Use this just like any other deodorant stick you may be used to. Apply a thin layer of product to where you don't want to stink. Sticks contain 1.8oz of product.

Ingredients: *+cocos nucifera (coconut) oil, *maranta esculenta (arrowroot) powder, magnesium hydroxide, *+theobroma cacao (cocoa) seed butter, *+butyrospermum parkii (shea) fruit butter, helianthus annuus (sunflower) seed wax, *citrus sinensis (sweet orange) peel oil, *citrus paradisi (grapefruit) peel oil, *citrus limon (lemon) peel oil

*certified organic / +fair trade

RIP at end of product life tube and seal are compostable.