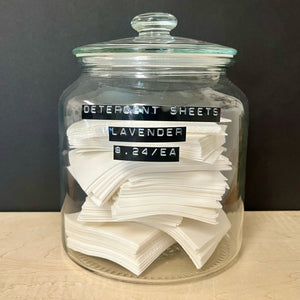 Conquer the laundry room clutter with zero waste detergent sheets.  Did you know that liquid detergents consist of 60-90% water?  These detergent sheets are highly concentrated, plastic-free, & spill proof for our fellow clumsy witches.

How To Use:  With dry hands, drop desired number of strips* into top loading washer or into drum of front loading washer, add clothes, start washer.  (*1/2 strip for compact washers, 1 strip for average load, 2 strips for large load, 3 strips for extra large or heavily soiled loads)
Ingredients:  Polyvinyl alcohol, Sulfuric acid, Mono-C12-14-alkyl esters, Sodium salts, Kolin, Coconut diethanolamide, Sodium lauryl polyoxyethylene ether sulfate, L-Glutamic acid, N-bis(carboxymethyl)-, Sodium salt, Saponins, Quillaja saponaria.