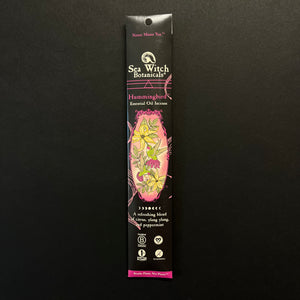 Hummingbird, by Sea Witch Botanicals, is an all-natural essential oil incense blend that serves spring vibes whenever you need that hit of fresh floral energy. This bright blend features sweet ylang ylang, crisp citrus, and a breeze of uplifting garden peppermint in this spring-inspired blend. Perfect for when you want to frolic in the meadow but you're stuck indoors. Approximately 20 incense sticks (30 grams) packaged in a compostable box.
Ingredients: essential oils (bergamot, grapefruit, orange, peppermint, ylang ylang), charcoal, tree resin, bamboo stick, clay/micas

RIP At end of product life ashes, bamboo stick, & paper box are all compostable.