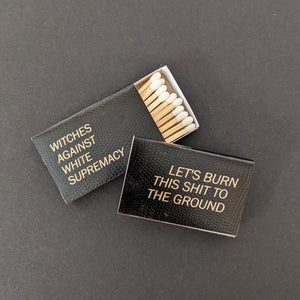 These ritual matches by Snake Hair Press have been one of our household favorites for years & we're honored to have them in the store.  One side of the glossy snake embossed box reads "Witches against white supremacy" in gold foil while the other side reads "Let's burn this shit to the ground".  Each box holds 20 wooden white tipped matches.
International witches, sorry but we cannot mail matches outside of the US.
RIP at end of product life matches & inner box are compostable, outer sleeve is landfill bound.