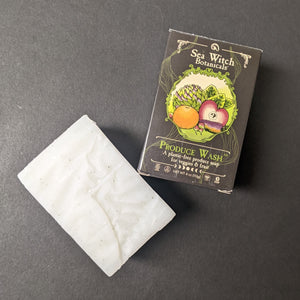 Removing nasties (natural or otherwise) from your produce has never been easier or more fun! This organic coconut-based soap works great for scrubbing off wax, microbes, soil, and worst of all- residual pesticides from your delicate fruits and veggies.  Vegan & fragrance free.
To use:  Simply lather your hand in the soap and apply vigorously to your fruits and vegetables, or mix it in with a bowl of water and swirl with more fragile foods like lettuce.  Store on a soap dish between uses, this will extend its lifespan by allowing it to dry out.
Ingredients:  Saponified Organic Coconut Oil (Cocos nucifera), Kaolin Clay, Green Zeolite Clay.
RIP Bar soap will break down naturally, wax paper inner liner is home compostable, paper box can be recycled or composted.