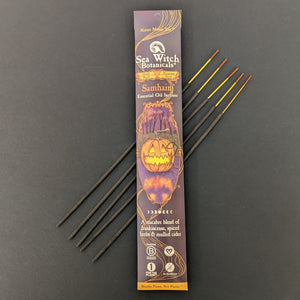 Evoking the autumnal spirit of darkness, Samhain unfolds its alluring mystery in a deliquescent blend of seasonal spices. By the thinning of the veil, inhale the scent of a foggy evening spent trick or treating, traipsing over mossy gravestones, and telling folktales by the firelight.  By fellow AAPI owned zero waste witch company Sea Witch Botanicals.

Ingredients: essential oils (cinnamon [Cinnamomum verum], clove [Syzygium aromaticum], frankincense [Boswellia sacra], orange [Syzygium aromaticum], patchouli [Pogostemon cablin], rosemary [Rosemarinus officinalis]), charcoal, tree resin, bamboo stick, paint (mineral pigments, natural resins)

RIP At end of product life ashes, bamboo stick, & paper box are all compostable.  Inner sleeve is bio plastic & compostable wherever commercial facilities are available.