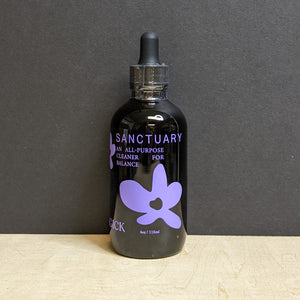 Sanctuary is so good it will give your house a halo. As above, so below - turns out balance can come in a bottle.  Supported by bay leaf and tourmalinated quartz essences.  Smells like citrus, sandalwood, and vetiver.  Works like a ceremonial grade surface cleaner.  Use anywhere you need a re-balancing act.  Gentle enough for all surfaces, but tough enough to wash away weird vibes.  This all-purpose cleaner concentrate by Counter Magick will make 3 16 ounce bottles of cleaner.
Ingredients: Hydrogen peroxide, vodka, plant-based surfactant, safe synthetic fragrance, essences of bay leaf and tourmalinated quartz.
Suggested Ritual: Where does your space need balance? Create a symbol or a sigil for balance and draw it in the air, use a crystal or wand to draw it for an extra boost. Then spray your surfaces and trace your drawing there with your sponge or cloth.  For more magic, draw your symbol or sigil on a bay leaf too & burn in a fire proof cauldron.

RIP glass can be recycled, rubber dropper top can be recycled in store via Terracycle (allegedly).