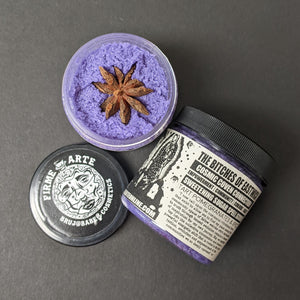 This Bitches of Eastwick sugar spell scrub is a juicy fall scented pomegranate spice blend for your shower or bath ritual.  Created by FirmeArte to conjure up the energy of the collective coven & help you connect from afar.  The infused oil blend contains an array of botanical alliances such as calendula for healing and mugwort for psychic connection.  "The ritual herb blend also contains magical properties that call out to the energies of our cosmic kin in order to tune us into the power of the collective unconscious that we are all connected to as cosmic creatures.  Inspired by the iconic scene from the 1996 cult classic film The Craft.  In magic we often see sugar being used as an additive in spell work to sweeten the energetic output of the magical work we are doing.  Sugar creates an energetic field that welcomes in desired energies, making the environment or spell work 'sweet' and more enticing for the vibrations you wish to call upon. "  Listing is for one 4 ounce BPA free plastic* jar.
*Brianna is a clumsy witch who has dropped many many many glass containers in the shower, so trust us when we say this is for the best.
RIP At end of life BPA free plastic jar can be reused or recycled, botanical bits can be composted.