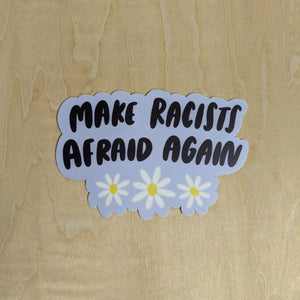 MRAA (em RAH!) has a better ring to it, don't you think?  This 3" vinyl sticker by Your Gal Kiwi is waterproof, heatproof, resists scratches and won't fade in the sunlight so you can put it on whatever your lil' heart desires: coffee tumblers, water bottles, coolers, cars, bikes, on top of your racist relative's outdated election stickers- the options are basically endless. 
TO USE:  Simply wipe your chosen surface down, peel the decal off the backing, and stick.

RIP Sticker & backing are landfill bound.