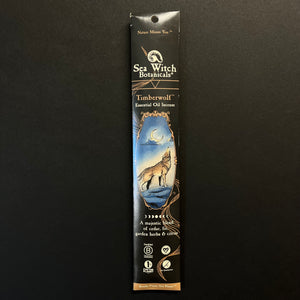 Timberwolf, by Sea Witch Botanicals, is an all-natural essential oil incense blend that brings the energy of the great outdoors to wherever you are. This majestic blend features clarifying fir and cedarwood atlas essential oils on a bed of lavender, rosemary, peppermint and orange. Perfect for when you want to run wild but have to be indoors, burn Timberwolf to add that burst of untamed energy to your space. Approximately 20 incense sticks (30 grams) packaged in a compostable box.
Ingredients: essential oils (cedarwood atlas, fir, lavender, orange, peppermint, rosemary), charcoal, tree resin, bamboo stick, clay/micas

RIP At end of product life ashes, bamboo stick, & paper box are all compostable.