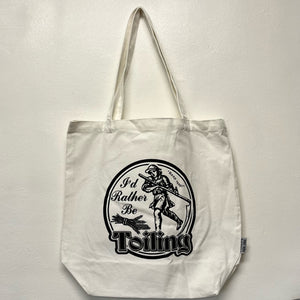 Why participate in capitalism when you could be toiling away instead?  When you're forced to do something other than toil you can let everyone know what you really wanna be doing with this tote.  We think this is the perfect work tote.  26" handle drop, 20" wide x  17.5" tall with 7" bottom gusset.  100% cotton, AZO-Free with no hazardous chemicals.  By Arcane Bullshit.

CARE  Cold water & line drying is best for your bag and the planet, & it'll keep the graphic looking crispy.
RIP At end of life cotton tote is compostable or recyclable where fabric recycling exists.