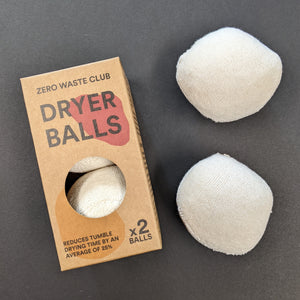 Zero Waste Club's 100% Plastic Free Dryer Balls are made from Organic Cotton Terry Cloth and filled with 100% Recycled Waste Cotton and will significantly reduce your drying times. They are 100% Vegan and they work by increasing the airflow inside your tumble dryer machine, as well as by absorbing excess moisture. This shortens the required drying time, saving you time and money on your energy bill.

HOW TO USE:  Place two Dryer Balls in your tumble dryer machine in with your wet laundry and use the machine as normal.  Once your machine has finished, remove the dryer balls and air dry the Dryer Balls in a sunny place ready for their next use.
RIP at end of product life, please recycle where textile recycling exists or compost.