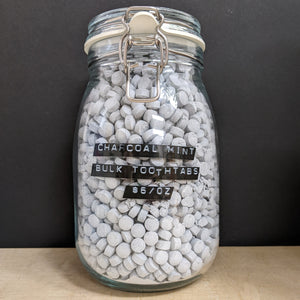 Huppy Toothpaste Tablets made with Charcoal & Peppermint are a toothpaste alternative that naturally whitens, fights plaque, and freshens breath without adding more plastic waste to our environment.  Tablets non-GMO, cruelty-free, and made with vegan ingredients like charcoal, peppermint oil, coconut oil, aloe vera extract, and xylitol. Looking for fluoride?  Toothtabs contain nano-hydroxyapatite, a non-toxic fluoride alternative that remineralizes tooth enamel & helps fight sensitivity. They also foam easily and are super easy to use: chew, brush with a wet toothbrush, and rinse.
Listing is for 1 ounce, which is about 1 month's worth of tablets.  We will package these in a new paper pouch made from recycled paper.
RIP At end of life, tooth tablets will naturally biodegrade & paper pouch can be reused, recycled, or composted (safe for backyard & vermicomposting systems).