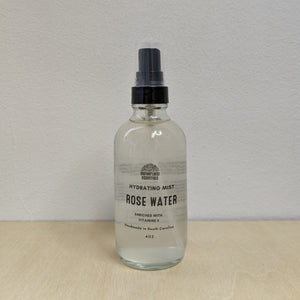 This Motherland Essentials Rose Water can be used as a PH balancing skin toner, a linen spray, or as a clearing spray.  Or if you're Boss Witch, you use it for D) all of the above, while also carrying one in your purse for spritzing in the direction of people with weird vibes.  We recommend rose water as a clearing tool for anyone who needs something gentle due to health concerns or pets (we're talking to you pet bird people).  4 ounce glass bottle.
Uses:  Toner, linen spray, clearing mist.

Ingredients: Aloe Barbadensis (Aloe) Leaf Juice, Rosewater (deionized water, Rosa Centifolia), Vitamin E (Tocopheryl Acetate) oil, Sunflower Oil.
RIP When glass bottle is empty it can be reused or recycled, plastic spray top is recyclable in store via TerraCycle (allegedly), cruise in to drop it off or mail a bunch in to us.