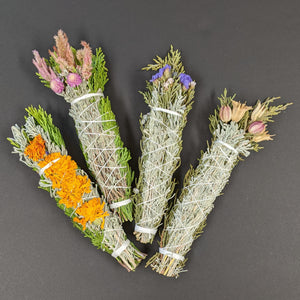 We put out a call to the #CoyoteCoven in 2019, asking if any local Native witches would be willing to wildcraft smoke bundles for us.  Mary McCallum of Sierra Roots Wellness happily volunteered.
From Mary: "Herbal smoke has been used for centuries by cultures all over the world to send prayers to spirit, cleanse the air, ward off infection & illness, and connect to the natural world.  You can use this bundle in the same way; or create your own ritual through burning the bundle or simply placing it on your altar or a special place in your home.  I hope you relish in this hand harvested bundle from the High Sierras.  Each bundle is harvested primarily from downed branches or using ethical wild harvesting practices from what is available seasonally in honoring Mother Earth's cycles."  Listing is for one bundle, please select your preference from the drop down menu.  Bundles are handmade from natural materials & may vary slightly in appearance from the photos.  Most are about 10" long by 2.5" wide. We will intuitively select a seasonal bundle for you.

RIP At end of product life, smoke bundles are completely biodegradable & compostable.