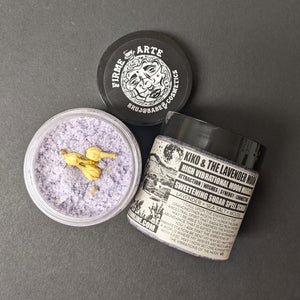 FirmeArte's "Kiko & The Lavender Moon formula invites you to take a journey through the cosmic mind and tune into the vibrational output of moon manifestation.  Our Grandmother moon is honored here as she continues to be such an iconic energy when it comes to manifesting the goals and desires we wish in this realm. We tap into the divine connection of the moon and our ability to use her energy to fulfill our goals and dreams. Topped with programmed jasmine buds that act as a magnet for the intentions we set at this time. Infused with soothing lavender and  detoxifying lemon peels + green sea clays as offerings to the water and moon spirits.  What is your wish? What goals can you set? What would you like to attract?  Inspired by the song Kiko & The Lavender Moon by Los Lobos.  In magic we often see sugar being used as an additive in spell work to sweeten the energetic output of the magical work we are doing.  Sugar creates an energetic field that welcomes in desired energies, making the environment or spell work 'sweet' and more enticing for the vibrations you wish to call upon. "  Listing is for one 4 ounce BPA free plastic* jar.
*Brianna is a clumsy witch who has dropped many many many glass containers in the shower, so trust us when we say this is for the best.
RIP At end of life BPA free plastic jar can be reused or recycled, botanical bits can be composted.