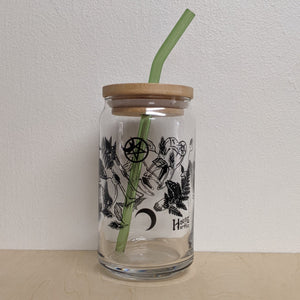 When these House of Hex can glasses popped up in our Instagram feed we knew the #CoyoteCoven needed this witchy zero waste goodness in the store.  And well, our first round was FLYING off the shelves.  Magick Spell motif features toadstools, teeth, potion bottles, candle sticks, pentacles, and fall foliage.  We've had a couple local Reno coffee shops agree to fill ours up with our iced lattes to save waste too.
Glasses fit 16 ounces, are top rack dishwasher and microwave safe, and feature straight sides, inset lip and ridged heel. The glass is about 5.25" x 3" big and the lid adds around 0.25 inches. The bent glass straws are about 8 inches long.
RIP if broken, see if your local waste management company takes broken glass, otherwise a local artist might be your best bet.  Inner silicon ring is landfill bound, bamboo lid can be composted.