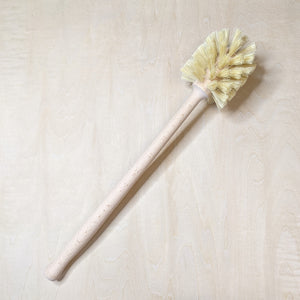 Keep things clean with this plastic-free and compostable toilet brush.  Beechwood handle and sisal bristled brush measures 14" long by 3" wide.  While you're here, check out these toilet bombs too.
Care & Use:  use as you would any other toilet brush, but allow to dry out between uses for the longest life.  How?  We suggest cleaning the entire toilet right before leaving for work or going to bed.   Then tap off excess water from the brush into the toilet, keep it suspended over the toilet but out of the water by closing the toilet seat on top of the brush handle. When the brush is dry (after you come home/wake up), it's ready to be stored in a crock or jar next to the toilet.
RIP at end of life brush head is & wood part of handle are fully compostable (beechwood will take awhile to break down).