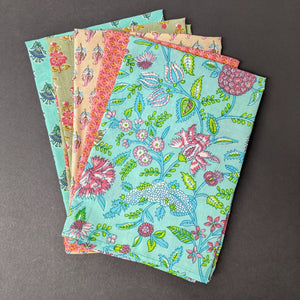 These handcrafted cotton bandanas give new life to block printed textiles in a fun, versatile design.  Block printing is a traditional art form native to Rajasthan, India.  Universal cloths can be a bandana, dish towel, hand towel, altar cloth, tapestry, whatever you like.  They also make a wonderful zero waste gift (and/or gift wrap, Google "furoshiki").  19" square 100% cotton, imported by Matr Boomie Fair Trade.  Due to the handmade and upcycled nature of this item, our selection varies, please allow us to intuitively select one for you.

Care Instructions:  Machine wash in cold water, tumble dry low or line dry, iron on cotton setting.

RIP At end of life cotton fabric can be composted or recycled.