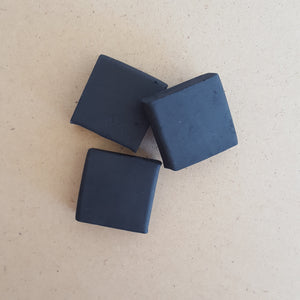 Single charcoal tablets for loose incense.  Listing is for one individual tablet.
In the early 18th century, Rokubei Moritsune Hata began incorporating incense-making techniques he learned as an employee of Kyoto's Imperial Palace in Japan.  12 generations later, the Hata family continue to create exceptional incense products, including the charcoal tablets and ceramic cauldrons we carry by Shoyeido.  Each box of charcoal contains 24 tablets of Shoyeido's Miyako Sumi charcoal.  Charcoal tablets are 1" square by .25" thick.
How to light:  Place on gas burner on low or electric burner on high, flip when glowing, when both sides have caught follow instructions below.  We use a fork, tongs, or metal chopsticks to flip.
How to use:  Place cauldron/cast iron skillet on level surface away from fire hazards, fill bottom of vessel with salt, add lit charcoal tablet, sprinkle loose incense on top.  You could also burn small uncolored pieces of paper with wish lists, lists of things to let go of, and messages to people you miss.  Or lists of people who've wronged you, we don't judge, do you boo boo.
RIP At end of life unlit charcoal and resulting ashes from used charcoal can be composted, box can be composted or recycled, small padding in top of box is landfill bound.